Shyann Eckel - Loan Officer
Core Mortage   -

15333 N Pima Rd Ste 300
Scottsdale , AZ 85260
| | |
| --- | --- |
| Office Phone: | 480-993-3000 |
| Cell Phone: | 480-223-3273 |
| Fax: | 928-774-2197 |
| Email: | |
Financing a home is one of the biggest financial decisions of your life. I am dedicated to the mortgage profession and will stand ready to assist you each step of the way. I have been originating loans for 10 years and I look forward to helping many more families with their home mortgage needs. It is my mission to guide you through the entire loan process so that you can feel confident and educated as you make choices about the options available for your financing strategy. I look forward to Earning your Business!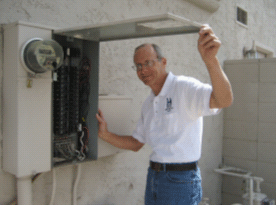 Mark Anderson
Phone: 480-614-0015
Fax: 480-614-1760
e-mail: lauren@hainspect.com
H & A Services LLC
PO Box 15430
Scottsdale ,  AZ    85267-5430
H & A Home Inspection
A good home inspection will help you identify potential problems before you sign on the dotted line. This will allow you and your agent to negotiate any needed repairs or price adjustments.
Phone: (602) 993-5911
Fax: (602) 324-1841
Toll Free:
Phone: (888) 758-9729
2325 West Utopia Rd
Phoenix , AZ 85027
Service One Home Warranty
Protect your home investment with a warranty from Service One
Since 1990, Home Warranties has been the first choice in home warranty protection in Arizona . Our offices are headquartered right here in Phoenix and as part of your community, we understand the unique needs of Arizona homeowners. That's why we offer a home warranty with coverage and service that is tailor made for our Arizona lifestyle.
(602) 445-5525 Office
(602) 412-4580 Fax
7720 N. 16th St., Ste. 450
Phoenix , AZ   85020
At Great American Title, your peace of mind is our highest priority. 
A real estate transaction can be a complicated and overwhelming process—let us simplify it for you.   With our comprehensive list of escrow and title services, we can facilitate any transaction.