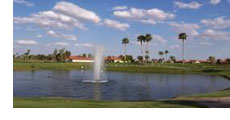 Sunland Village
Sunland Village is an acitve adult golf community located in the heart of Mesa. Sunland Village was built from the early 1970s to the mid 1980s.
Homes range from approximately 1,300 square feet to 2,100 square feet. Condos/townhomes range from approximately 800 square feet to 1,500 square feet.
Amenities include an 18 hole executive golf course, swimming pools, tennis courts, an auditorium, many clubs and activities.